---

Art Direction, Design, Photography & Articles: Zuno


Printed in U.S.A. in 2009 by Blurb Inc.
www.blurb.com/bookstore

TM & 2009 Zuno
All rights reserved. No part of this publication may be reproduced, stored in a retrieval system, or transmitted in any form or by any means, electronic, electrical, chemical, mechanical, optical, photocopying, recording or otherwise, without the prior written permission of the copyright owner. Enquiries should be addressed to the Publishers.

Item No. zuno09040101

1/6thISM
V.1. The Last ...
By Zuno


Pages: 84 pages
Printing: Full color
Dimensions: Standard Portrait
Size: 8X10 inch
Category: Arts & Photography


Publish Date: April 6, 2009
Published by Blurb Inc.

ISBN 978-0-578-01917-8

Ships to: Worldwide
Item location: U.S.A
Status: In Stock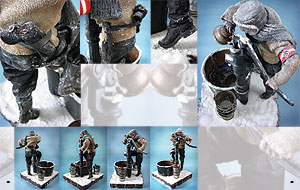 Pages: 84 pages
Printing: Full color
Dimensions: Standard Portrait
Size: 8X10 inch
Category: Arts & Photography

Published by Blurb Inc.
---
1/6thism
A world scaled down to one sixth of its size, That's where I seek to realize the aspiration of mankind.
The approach towards the world that cannot yet be seen or touched, Towards the desire to possess that which cannot be possessed, This is what I seek to realize in this condensed world.
I try to craft the most human-like skin, form and operation. By creating lifelike expression and posture, as if to emulate God's breathing of life into Adam, I seek to attain the complete analog desired by humans.
The values of direct observation, as well as those of touch and possession, are all being surpassed in this condensed world.
For us humans who seek possessions for the satisfaction of the senses, or, the completion of the analog, the effort to provide such minute yet detailed "1/6" world is of great significance, as it serves as a channel through which everyone of all age, race and gender can transport across time and space to touch and possess to their satisfaction.
The act of possessing is a privilege unique to humans and is a completion of human nature.
Realization of the perfect analog and of the satisfaction of the five senses, Our human quest for 'value' is being gradually accomplished in the condensed world through the work of countless "1/6 figure artists" across the world.
I call this "1/6thism".
Zuno
---
About the author:
Jun Ho Kim, also known as Zuno (b. 1964), is a graphic/Web designer, art director and a collector of toys and customized 1/6th figures and dioramas.
Hailing from Seoul, South Korea, he has also taught numerous years at the collegiate level there.

His passion for toys started with collection of rare-found figures in late 1980s and has since into expanded to customizing, painting and kitbashing 1/6th scale figures with life-like details.

Also active in online forums, with awards and exhibition from around the world, the widely-acclaimed artist hopes to be a bridge between 1/6th scale world and people around the world through this book.

He now resides in the United States.

Zuno's website: www.e-ureka.com
---
Dedicate the book to my parents and family.
Acknowledgements
My thanks go to the following for their encouragement, contribution and friendship:
Stacy Willis, Sena Lee, all my friends on WOCC(WW2 Onesixth Collector's Club; South Korea),
and the members of OSW(onesixthwarriors.com; USA), Sideshow Freaks(sideshowcollectors.com; USA),
Combat 1A6(combat-1a6.eu; Italy), Actionfigurine Forum(actionfigures.bbfr.net; France),
ACCIÓNUNOSEIS(accionunoseis.org; Spain), AGRUPACIÓN 1/6(agrupacion1seis.com/xs; Spain),
UK 1:6 Collectors Club(onesixthcollectors.co.uk; UK), Sixth Sense(uk16.freeforums.org; UK),
Brigada1sexto(brigada1sexto.com.br; Brazil), OSCF(oscf.net; Japan), MFM(cafe.naver.com/milifigure.cafe; South Korea)
and Ifigure(ifigure.co.kr; South Korea).
---
Reviews
http://www.onesixthwarriors.com/forum/showthread.php?t=92237 (OSW: US)
http://www.combat-1a6.eu/viewtopic.php?t=3079 (Combat 1a6: Italy)
http://www.accionunoseis.org/viewtopic.php?t=8013 (Accionuonseis: Spain)
http://www.agrupacion1seis.com/xs/1-6thism-by-zuno-l-vt6167.html (Agrupacion 1/6: Spain)
http://www.oscf.net/viewtopic.php?t=1447 (OSCF: Japan)
http://www.brigada1sexto.com.br/forum/viewtopic.php?t=2184&sid=cc0e269cc696dbd375479cd0f99a98be (Brigada 1 Sexto: Brazil)
http://actionfigures.bbfr.net/univers-1-6-f13/1-6thism-by-zuno-l-t6720.htm (Action Figurine Forum: France)
http://www.uk16.freeforums.org/1-6thism-by-zuno-l-t490.html (Sixth Sense: UK)
---
Website
---